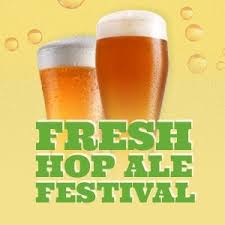 It is almost time for the 12th Annual Fresh Hop Ale Festival. Every year, downtown Yakima comes alive to enjoy one more thing local, Fresh Hop Ale. Since Yakima Valley is known as one of the premier hop growing regions in the country, not to mention, the world, why not celebrate that with an ale or two?!
This year, festivities are on Saturday, October 4th from 5:00 pm to 10:00pm. Named as one of the top ten beer festivals in the country, it is sure to host a good time with some great brews. Over 30 different breweries will have beer for you to enjoy plus the wine, food and live music. Bring your own lawn chair and a friend or two.
With a growing number in attendance, be sure to get your tickets before it's too late. Tickets can be purchased online. As always, we want to ensure that everyone has a fun but safe time. If you thoroughly enjoy yourself, grab a cab and head over to finish the night off with us here at Ledgestone. No need to rush home. Our goal is to make you feel at home so enjoy our plush beds, relaxing rooms and luxurious linens. You will wake up refreshed and happy you enjoyed your night out.