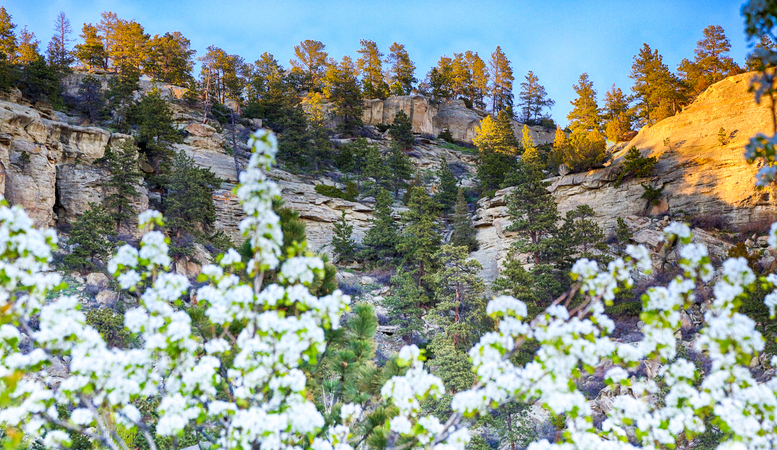 Swords Park, Billings, Montana
This must-see Billings attraction features many parks and the famous Angel statue overlooking Rocky Mountain College. The rimrocks are geological, sandstone formations that outcrop the city of Billings. Over 80 million years, the sea level rose and fell leaving behind a deep layer of sand that is fascinating to witness.
The most intimate and most scenic spot amongst the Rimrocks is the Four Dances Natural Area. This scenic location offers many different hikes and promises the best views in the area. This park is just outside of the city, so this means less crowds and clean grounds due to the lack of littering. A short hike can be made to the prime spot of the area with views of cliffs rising up over the Yellowstone River.
Swords Park offers excellent hiking, biking, bouldering, and feature spots for rock climbing. The park is home to the Yellowstone Kelly's grave site. Luther Sage Kelly was one of the most notable American veterans, scouts, and warriors of his time and he requested that his body be buried in Montana, where his restless spirit had experienced its greatest adventures. This is a popular tourist site, as Kelly is a state-wide icon.
2100 S Shiloh Rd, Billings, MT
This 70-acre zoo is home to over 100 animals of 50 different species such as wolves, grizzly bears, otters, eagles, and lynx. As a zoological and botanical park and educational facility, ZooMontana features many interactive exhibits. A highlight of the park is the Sensory Garden, featuring both native and exotic plants, intended to stimulate every sense.
720 Washington St, Billings, MT
This public garden draws people from all over with its unique collection of flowers and plants. The gardens change according to season so there is always something new to see. Sit by the koi pond or wander the many, lushes garden areas. During the upcoming fall months, visitors can expect dahlias, chrysanthemums, angel trumpets, and roses.
277-7337 State Secondary Hwy 416, Billings, MT 
This relaxing park is a great place to bring the family. Sit by Lake Josephine and feed the geese or enjoy the many picnic sites equipped with grills. Bring along your bike or simply take a stroll through the trail systems running through the park. The park is also home to sand volleyball courts and park shelters available to rent for you outing.
 Located on the Crow Indian Reservation and the Custer National Forest
These mountains are often a natural wonder, as 8 species of plants grow here that exist nowhere else in the world. Visitors can hike, bird-watch, ride horseback, hunt, take scenic drives and geology tours. Tourists rave about the stunning views of the mountains rising from the prairie and of the stillness of the area. Check out this botanic hotspot for a beautiful and quiet get away.
For a list of recommended hikes visit http://www.pryormountains.org/welcome-to-the-pryors/hiking-in-the-pryors/