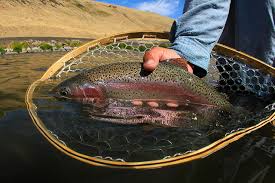 Fly fishing is one of the fastest growing past times on the Yakima River. It is also known as 'chase rainbows'. The 'blue-ribbon' trout stream, as the Yakima River is called, has become known as the best in the state attracting anglers from all over. Spring time is the prime time for fishing. This is when the water level is the highest and there is a larger variety of hatches. The fall, primarily September thru November, are also popular months for fishing. This time of year the water is running the lowest and you have a better chance of catching larger trout, averaging 12-15 inches, all the way up to 18 inches.
There are restrictions along this river requiring all anglers to release trout caught on this river an artificial flies or lures with barbless hooks are required. If you are a first time angler, this is a great location but be sure to do your homework. There are various outfitters who guide river outings and fishing trips such as Red's Fly Shop, Troutwater Outfitters and Worley Bugger Fly Co. Keep in mind that you may be 'chasing rainbows' rather than catching but stick with it, you are bound to land the big one and your hard work will pay off.
If the tranquil atmosphere and scenery are not your thing after a day or two with no luck, trade in your fly rod for a paddle. Yakima River is also known for some of the better white water rafting in the area.