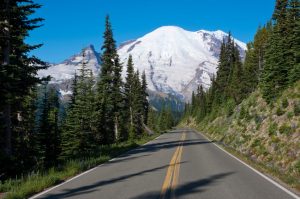 Mt. Rainer is a majestic site and one that brings visitors from all over the country. Just a short drive can put you at the base of this truly beautiful sight. This active volcano is an icon here in the state of Washington and has abundant wildlife for viewing as well as outdoor activities for visitors.
Enjoy a day trip to Mt. Rainer National Park. Only 50 miles from our doors, its the perfect way to spend a day with the family. Many see Mt. Rainer as a spring and summer activity for hiking, wildlife viewing and more. Winter is actually a great time to enjoy the sights, surroundings and nature of this spectacular park. Wildlife is abundant this time of year so bring your camera and be ready to capture a few beautiful sightings. Snowshoeing is popular this time of year. Enjoy a walk in the winter wonderland that surrounds you. Learn about the ecology of Mt. Rainer as you take a snowshoe walk with a park ranger and check out the exhibits at the Visitor's Center.
Kids, grab a sled and head down hill! The snow play area is the ideal spot for sledding. Snowboarding and cross country skiing can help you pass the time as well. For hours and any park updates, visit the Mount Rainer National Park website.
We are excited to be your Mount Rainer hotel. We invite you to visit us again as you explore Yakima and its surrounding areas. We are sure you will love it as much as we do!