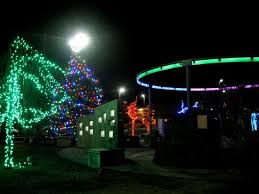 It is Christmas time and there is no better way to get into the spirit of the season than to join in the lighting of the tree. Downtown Yakima hosts the annual tree lighting ceremony this Friday night. Light Up The Plaza brings old and young together each year to kick off the holidays and get everyone into the holiday mood. It is one of the favorite events of the year that everyone looks forward to all year long.
Millenium Plaza will be buzzing with excitement as our community gathers to enjoy music, entertainment and a night of holiday cheer. The fun begins with a Tim Snider concert at 6:00 pm. The tree lighting will take place at 6:40 pm followed by a Mikey & Matty concert from 6:50 – 7:30. Bring the kids to enjoy the fun too! Free carriage rides continue until 9:00 pm.
How can you celebrate Christmas without Santa?! Pictures with Santa will be at Ron's Coin and Book from 6:00 pm until 9:00 pm. Grab a cup of hot cocoa and celebrate Christmas in downtown Yakima.
If you are not familiar with our town, just check with our wonderful front desk staff. They will gladly give you directions or help with a map. We wouldn't want you to miss out on the fun.