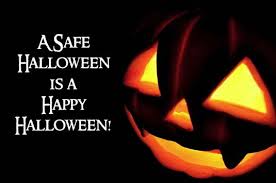 Halloween is just days away and the kids are anxious for bags full of candy. Before you head out trick-or-treating or to any of the holiday festivals, here are a few Halloween safety tips for you and your family.
-Parents, always accompany your little ones. There are many risks to having your children head out alone.
-Keep visibility in mind. Many times it is hard for drivers to see at night. Add a dark colored costume and that just adds to the risk. At least one person in the group needs a flashlight. Glow sticks is another option. Consider bright and/or reflective costumes. Adding reflective tape will also help drivers see you and your kiddos as you walk around in the dark.
-Only go to homes with a front light on and let your children know they should never enter a home or a car for a treat.
-If your children are older (old enough to go it alone) make sure you review a route that is acceptable and know what neighborhoods and streets they will be visiting. Also, agree on a time for them to check in  or return home for the evening.
-Travel in groups and make sure at least one person has a cell phone for emergencies.