Craving something to sweeten up your Yakima trip? Travelers are surrounded by sugary goodness, starting with Yogurt Shack, open until 10pm for those late night cravings. Crazy Cow Ice Cream is another option and is a downtown gem that's been scooping up handcrafted goodness for years. There's also Terry's Dairy, another ice cream option and the perfect way to shake up a work trip.
North Town Coffeehouse in Selah is a popular spot for java and sweets, serving delectable patisserie items starting at the crack of dawn. The Essencia Bakery Café is a local favorite where you can order custom creations or just swing by to pick up doughnuts, cookies, cakes, pies, and more.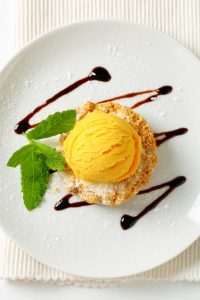 The Cherry on Top
Buhrmaster Baking Co. offers a variety of sweets and goodies for any occasion. At Glaciers Frozen Yogurt you can get some tart sweetness filled with good-for-you toppings—or go all out with an indulgence or two! Don's Donuts and Julia's Java is the perfect match where you can get a caffeine and sugar fix at once.
You also have your staples like the Safeway Bakery, Arctic Circle, and multiple Baskins-Robbins locations. No matter what you're craving, you can find it in Yakima, where wine country meets dessert nation.