Craving a slice of sizzling pie while traveling in Yakima? There are some great pizzerias in town, many of which will deliver right to your Yakima hotel! Russillo's Pizza and Gelato offers New York style pies and a generous wine/cocktail menu. Try their Neopolitan, Pollo Blanco, Taco Pizza or their vegetarian options. The pork masala sandwiches are to die for too!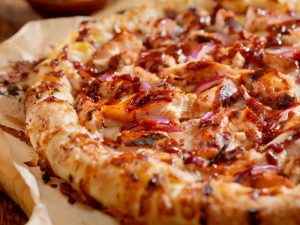 Tony's Big Cheese Pizza is locally owned and operated, known for the Pura Carne all meat pizza and the Puros Vegetales all-veg choice. Add on chicken wings, Italian cheese bread or extra homemade sauces. All dough is made fresh daily, and the cheese is top notch.
Grab a Slice
MOD Pizza is a Northwest chain that's the pizza equivalent of Chipotle! Build your own personal-sized pizza on site and watch it being constructed and then baked in the wood pizza oven. The toppings are all locally sourced and you can come up with some quite unique combinations.
Westside Pizza features Garlic Chicken pies, Chicken Caesar pizza, Tropical Heat and a great all-veg option. Their desserts are what really set them apart, with the PB&J sticks, butter cinnamon stix, and dessert stix with apple, cherry or raspberry options.