There are some real show-stopping hikes in Yakima, but the Skyline Ridge/Rim in the L.T. Murray State Wildlife Recreation Area is especially beautiful. Here, you'll find prime desert hiking that takes the cake for the entire Washington state. Along the farthest eastern edge, the absolute best views can be found. Discover desert wildflowers that pepper the otherwise brown hills and create a rich hue in the spring and summer. Birds such as hawks, eagles, bluebirds and swallows join you—and you might even spot a badger, hare, coyote, bighorn sheep, elk or deer along the route.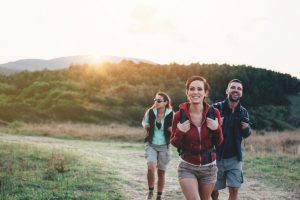 There's an official trail, marked by a trailhead, but more adventurous folks can park half a mile short of the trailhead to climb up the grass-covered slopes to the ridge. This puts you smack in the middle of animals and plants, and you feel like you're taking a leisurely walk in nature's most beautiful garden. It's also safe, relatively easy, and you can't get lost. The gentle slope ensures your car is always visible, and once you're at the top, you get a great view of the cliff to the Yakima River.
Rim Views
Turn left, and you'll walk along the rim to find the official trail. The trail brings you close to the rim while keeping the river visible. From here, you can walk the entire rim, enjoying the aroma of wild bouquets. Sage is especially prevalent, but as spring turns to summer, a bevy of flowers fight for your attention. You'll also get whiffs of onions, parsley and new grass.
Take advantage of one of the warmer weekends and discover the beauty of one of Yakima's best trails. Suitable for many ages and abilities, it's a must for anyone in the area who wants to get a peek at what wine country really has to offer.