Going without a hike in Yakima is like visiting and not checking out one of the incredible wineries! However, some trails do require permits for parking, but they are readily available at ranger stations and a number of local shops. Ask the hotel's front desk for the nearest available permit station. Once that's in hand, head to Boulder Cave, perfect for those with children. It offers breezy mountain air that's just right for hot summer days. A natural ice cave welcomes hikers, but make sure you bring a flashlight!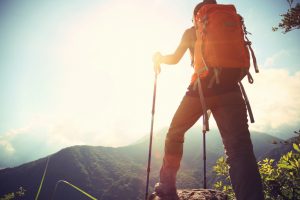 The Mesatchee Creek Trail is all forest featuring a natural "bridge" of downed trees to help you cross the American River. Wildlife abounds here, but be careful—snow may still be on the ground in June. Drive to Union Creek Trailhead a little farther up to discover a waterfall.
Take a Hike!
The Yakima Skyline Ridge Trail whisks you over the hills and is a perfect late-spring pick. Get a glimpse of the Roza Canal from a real bird's eye view of 3,000 feet up. It's a moderate hike, but some children find it the perfect challenge.
At Umtanum Creek Falls, you'll find a secluded piece of paradise within the L.T. Murray State Wildlife Recreational Lands. The trails are long, and you can choose your own length, but starting from Umtanum Creek Canyon is a good choice. Still, it can be rocky and slippery in some spots, so bring your good hiking boots.