The State Fair Park hosts the biggest Fourth of July celebration in Yakima, where the family-friendly event features a full carnival with rides for all ages. The celebration culminates in a 20-minute firework display at dusk. Fireworks are illegal in Yakima, and many parts of Washington, making this one of the rare opportunities to see an explosive display while diving into hand battered corn dogs and cotton candy.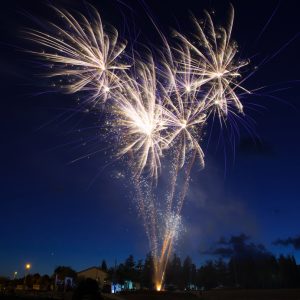 You can also bring your own picnic to share, or put together a goodie basket from the numerous on-site vendors. The party starts at noon, and free bus transportations at the Park & Ride stations are at the ready. Shuttles are available at the Gateway Center, Eisenhower High School and Wide Hollow School.
Plan Your Trip
Shuttles run every 10-15 minutes, and you won't want to miss Independence Day "the community way," which spans for over 10 hours with endless fun and games. Patriotic dress is encouraged, and getting a full-day ride pass ensures you'll have hours of fun.
Other options include the Sunnyside's Old Fashioned 4th of July, with a parade at 11am on Waterhouse Avenue with food vendors, hot dog and pie eating contests, a talent show, pageant, and chili cook-off. Check out the Prosser Old Fashioned Fourth festivities at City Park with a car show, obstacle courses, sack races, kiddie parades and pageants.