There's no better place to be than wine country for Thanksgiving, where you can pair a glass with turkey, dressing, potatoes and pumpkin pie! Every November, Wine Country Thanksgiving takes place throughout the holiday weekend, and this year there are over 50 local wineries participating. Check out the debut releases before anyone else, taste them paired with autumnal cuisine, and enjoy this beloved tradition that includes scenic drives.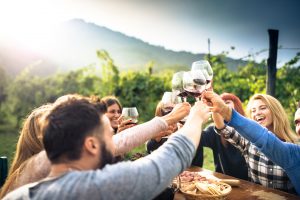 Wine-makers and T-day chefs are on site to help with sauce pairings, seasoning and bringing out the flavors of the holidays. Every participating winery is offering something unique, so be sure to check them all out during your long weekend. Hop from winery to vineyard, sampling tasty treats and glasses of vino along the way. You've never enjoyed a Thanksgiving feast like this before!
Bottoms Up
Prefer a more traditional feast for Thanksgiving? A number of local restaurants are open on the big day. Mel's Diner is a favorite, laidback family-owned restaurant serving traditional sides and, of course, juicy turkey cuts. At Legends Casino, you can enjoy a fantastic meal in between your favorite table games.
Many head to the Clarion for their holiday feast, and picking up a pie from Shari's (or dining there late night!) is a popular pick when those pie cravings hit. However you want to celebrate in Yakima, you can rest assured locally owned vineyards, restaurants and diners have you covered.