Book your table now at Carousel, the only French restaurant in Yakima and always a popular choice this time of year. Established in 2003, authentic French cuisine is the specialty here, featuring original recipes from the French chef and owner. The bistro is elegant, tucked into the Historical District with romantic ambiance and a welcome refuge.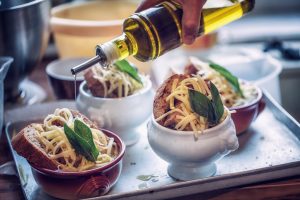 Open for brunch and dinner, with a bistro always available, you can start Valentine's Day with apple-cinnamon stuffed French toast or lemon ricotta pancakes for something sweet. Get the potato pancakes for brunch, or go savory with a French omelet or quiche du jour. A lamb burger, pulled and smoked chicken sandwich, or croissants with a side of crème brûlée are always in season.
Dinner Out
The Bloody Mary Bar is the focal point of brunch, but at dinner, it's all about the appetizers like escargot, a boar plate with foie gras, frog legs and an artisanal cheese plate. That sets you up for traditional French onion soup with baguette, chicken braised in red wine, rack of lamb, rabbit or duck entrees.
For dessert, try the chocolate mousse, pumpkin-spice bread pudding, cherries jubilee or house made brittle trio. A chocolate martini, Irish coffee or Spanish coffee are also favorite ways to end this decadent meal.