Big, juicy, homemade comfort food at its finest. In Yakima, you'll find a plethora of burger destinations, starting with Bob's Burgers and Brew. Pairing your favorite sandwich with craft cocktails and beers, this local chain is a favorite hangout. Try the Ranch Burger with smokehouse bacon and American cheese, the Hawaiian Ham and Pineapple for a touch of sweetness, or the Bleu Cheese with an addictive special sauce.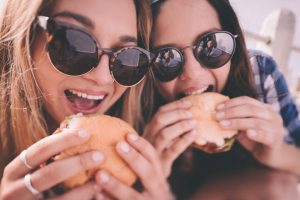 Miner's Drive-In is a touch of nostalgia with a drive-through window that's been slinging burgers since 1948. Jumbo patties and shakes are staples, and it's where you'll get traditional burgers done right. Double down with the patties, choose your toppings, and always leave room for one of their famed monster shakes.
Burger Up!
Try Famous Burger and Teriyaki Sandwich for some American-Asian fusion. It's a no-frills establishment with counter service, best known for their namesake burger. However, there's a variety of other burger and sandwich options, some featuring sweet and sour sauce while others put chicken as the star.
Burger Ranch is a local favorite, known for their from-scratch offerings and the freshest ingredients around. Here, you'll find classic burger concoctions, but you can also customize your burger to suit your whims. It's a great choice for a quick and delicious bite.