Although the Pacific Northwest is well-known for sustainable fare and locally-sourced ingredients, sometimes you need authentic Indian cuisine to pair with that perfect regional wine. Taj Palace is Yakima's premier Indian restaurant, known for having traditional curries and tandoori dishes as well as an impressive lunch buffet.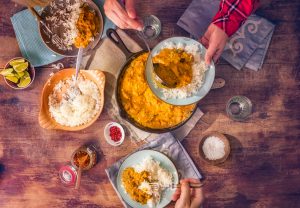 It's recommended you make a reservation for dinner because, as Yakima's only Indian restaurant, tables can fill up quickly. Specials fuse classical dishes with Washington favorites, like the Wild Salmon dish that is marinated with Indian herbs and spices and served with a house salad.
Spicing Up Your Getaway
Tandoori options fresh from the clay oven are popular, like the Tandoory Murg featuring a full chicken leg quarter marinated in a creamy yogurt and offset with vinegar and spices before being served to your table on a sizzler. Also try the Rack of Lamb and numerous naan specials, like the sweet Kabuli Naan with cashews, raisins and cherries.
Save room for dessert, like Rasmali, a delicious food consisting of homemade cheese patties swimming in an almond-sweetened cream. Coconut and mango ice cream are also sweet ways to cool off this summer!