Treat Dad to a feast fit for a king at the local Bob's Burgers and Brew where burgers (and a lot more) are done right. Enjoy a special dining experience with fast, friendly service and full flavors you'll never forget. Only the best ingredients are used, and there are over 20 burgers on the menu along with the tender hand-picked cod dishes. Grab a sandwich, grilled on a French roll, and don't forget about the luxury salads sure to satisfy even the biggest appetites.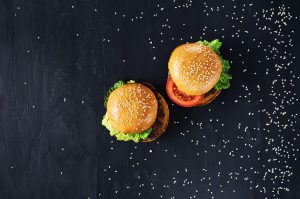 Bob's is also open for breakfast as well as a massive Sunday brunch. Available to cater to parties of all sizes, choose from the fire-side room or a banquet hall. Whether Dad wants an eggs benedict and French toast or the biggest deluxe burger in town, Bob's is the place to be with beer on top, handcrafted cocktails and a pub with plasma televisions.
What's on the Menu?
Burgers are king here, starting with the Western BBQ Burger with six ounces of beef topped with American cheese and smothered in Sweet Baby Ray's sauce. Try the Guacamole Bacon Burger with Hormel smokehouse bacon, pepper jack cheese and house sauce. The Hawaiian Ham and Pineapple Burger is a sweet surprise, with Swiss cheese, savory sauce and grilled pineapple rings.
Here for Sunday brunch? Don't miss out on the all-you-can-eat buffet with the ultimate omelet station as the star! From flapjacks to house potatoes, hash browns to scratch biscuits, it's the ultimate meal for the dad in your life. (Plus, the Bloody Marys are famous!)