Can you Catch the Crush? Now's your chance on October 14 – 15 at Wine Yakima Valley where a bevy of wineries celebrate the harvest season at this annual event. Every winery has its own festivities from grape stomps to crush activities, live music, wine tasting (of course) and free-run juice. Get a premium pass and you'll enjoy VIP benefits reserved just for pass-holders during this epic weekend. It's just $30 when purchased online.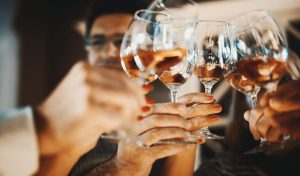 This time of year, you'll need a jacket and good walking shoes to triumph in Yakima wine country. Keep in mind that wineries always run out of glasses. Keep yours from your first stop, or bring one. A designated driver and identification is required. Some wineries waive tasting fees for premium pass holders, so make sure to check out the details as you plan your itinerary.
Who's Pouring?
In the Yakima Area, check out AntoLin Cellars, Treveri Cellars, Owen Roe and many more. Zillah Area wineries include Cultura Wine, Dineen Family Vineyards and Agate Field. Agate is retiring, which means fantastic pricing on retirement deals—get ready to stock up!
There's also Sunnyside/Grandivew/Prosser area wineries including 14 Hands, Co Dinn Cellars, Thurston Wolfe Winery and Chinook Wines. Head to the Red Mountain area for Chandler Reach Vineyards, Cooper Wine Company and Purple Star Winery. Get your pass online now and save!