Rated as one of the top 9 island holes in the world, Apple Tree Golf Course at 8804 Occidental Rd. is one of Yakima Valley's premier destinations. The course's challenging design comes with the highest quality of conditions, world class service, and some of the most gorgeous scenery in the Pacific Northwest. As you play amidst 100-year-old apple orchards, whether at your scheduled tee time, during a private lesson, or as part of a tournament, you'll be treated to an unprecedented experience.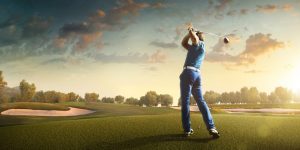 Rates and packages are available for all budgets based on time of day. Save more when purchasing a punch card, and book online for the best-priced tee times. In the pro shop, you'll find the best in golf apparel from the most popular brands. Get clubs custom fitted by professionals while you shop Nike, Cutter & Buck, Ashworth and more. There's also a great variety of gift items and accessories.
Swing Work
PGA lessons are available from certified instructors no matter your level. Boasting the best practice facility in the region, you can customize your program whether you're new to golf, a low handicapper, former pro, or junior player. Although many driving ranges have artificial turf, Apple Tree uses only genuine grass for a better game.
Find out more and book your tee time online today. After a full day on the course, treat yourself to fine dining at Apple Tree Grill or at the casual Slice Outdoor Lounge.