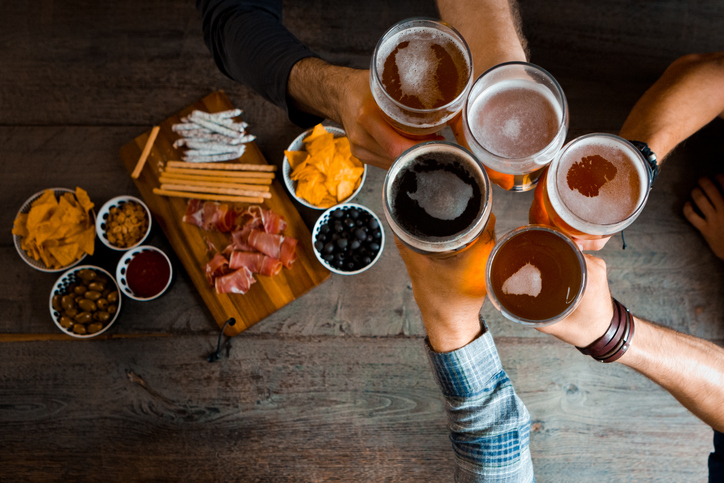 Walk along the Brewery District in downtown Billings and make each of these 9 stops on your self-guided tour.
The tour stretches 1.5 miles and all of your destinations are within walking distance. Enjoy food and drinks at 6 breweries, 2 distilleries, and a cider house!
2123 1st Ave. N
This hybrid joint offers a wide-array of handcrafted beers. Make sure to try the local favorites: the Yellowstone brew-Grizzly Wulff Wheat and the Huckle Weizen. Since the bar is a brewery and distillery in one, enjoy some vodka and gin in their tasting room. While you're sipping on spirits, listen to live music and if you're feeling brave, show off your karaoke skills at open mic night.
2305 Montana Ave.
If you've got the munchies, Uberbrew is the perfect place to make a pit stop before heading off to your next destination. They offer a full menu, so chomp on some Pale Ale Pub Cheese or German Egg rolls to fuel yourself for the journey ahead. This brewery promises yummy appetizers, a selection of handcrafted beers and a sleek, modern atmosphere.
2310 Montana Ave.
Built in 1909, Billings Depot Inc. was used to service 3 major railroad companies. The space has since been renovated into a popular events center. Enjoy a piece of Billing's history and fresh air in the outdoor garden before heading into Trailhead Spirits for some handmade liquor.
2314 Montana Ave.
Locals flock to this distillery for their handcrafted gin and vodka. Make sure to try the Great North Vodka, named after the Great Northern Railroad. This liquor is a nod to the workers who worked long hours to build Montana's railroads. With ingredients such as locally raised wheat, and pure mountain water, this vodka will not disappoint. Check out their souvenir shop for novelty flasks and trademark copper mugs.
2526 Montana Ave.
This brewery is well-known for its exceptional, handcrafted beers. Carter's Brewing is a family owned business which has won many awards for the quality of its ales. Locals rave about the Coldwater Kolsch, the Black Magic Porter, and the Station Master Pale Ale. The brewery also offers a selection of ever-changing specialty beers and seasonal brews which are constantly being updated on their facebook page.
2822 Montana Ave.
Get your history fix at this regional museum in downtown Billings. The center was once the historic Parmly Billings Memorial Library and is now an affiliate of the Smithsonian. Learn more about Billings' past at this notable stop on your tour.
20 N 30th St.
In the mood for some premium hot sauce and popcorn? Make sure to check out Angry Hanks. With 8 delicious ales on tap and a brand new location, this brewery promises a good time. Sit outdoors on their patio and enjoy all of their famous specialties.
3008 1st Ave. N
This brewery is known for its laid back vibe and a large choice of games to play. The bar offers pool, shuffleboard, darts and has a big screen TV mounted on the wall for your sports fix. Try the 6 beers they have on tap and chow down on some hot dogs and sausages.
113 N 28th St.
Last but certainly not least, is the Montana Brewing Company. This spot promises a lively, yet casual place to enjoy seasonal beers and a hearty dinner after your long day of brewery hopping. Relax and enjoy at the final stop on your tour.
Don't miss out on this day full of history and brew!