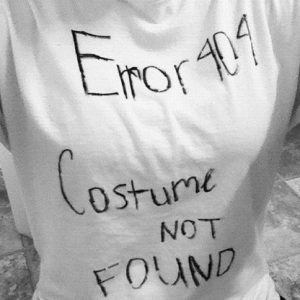 Your Halloween party is coming up and you need some fast, easy and inexpensive costume ideas. Have no fear, we have a few great ideas for you and you won't have to worry about seeing someone with the same outfit. These are some of the best last minute  Halloween costume ideas you can find.
Bee Keeper: Everyone has a pair of white pants and t-shirt. Now all you need is a pair of gloves, a wide brimmed hat and some netting (look at your closest craft shop or even Walmart or Target). Pin or glue the netting around the edge of the hat's brim and you are set.
Bag of Jelly Beans: Wear whatever is comfortable to you. Get a clear trash bag and cut holes for your arms and legs. Fill the trash bag with colorful balloon and tie the top of the trash bag around your neck with a ribbon. Go the extra length and write the nutrition contents on the back.
Curious George: So very simple! A pair of yellow pants, yellow shirt, yellow tie. A wide brimmed hat you can spray paint… you guessed it, yellow…. and a stuffed monkey.
Bunch of Grapes: Green or Purple… either way it is easy. Pick your color and wear pants and a shirt in that color. Now for the hard part… get coordinating colored balloons, blow up and pin all over your outfit and top off with a headband covered in silk ivy or leaves. Grab a friend and have them do the same thing in a different color. Pair with a glass of wine and you are ready for the party.
Gingerbread Man: This is specially for the red heads out there. Buy a few loaves of bread. Find a piece of cardboard and write 'Ginger Bread Man' on it and tie around neck  along with the loaves of bread. Get it… Ginger… Bread… Man?!