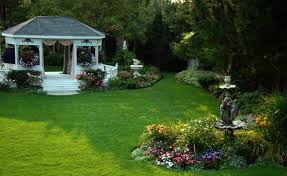 Wedding season is many months away but now is the time to start planning. One of the favorites spots here in Billings is the Dan Walt Gardens. It is a prime location for a beautiful outdoor wedding. Located among many lush green grass are beautiful flowers, sculptures, fountains not to mention the beautiful blue sky and the birds chirping.
Full of beautiful flowers that are planned for the Billings, Montana climate, the gardens have the perfect mix throughout the year. From gorgeous irises in June to the exotic hibiscus in August and September. Don't forget the incredible Rose Garden. It makes a wonderful backdrop for pictures.
Once you have your wedding venue secured, head over to to see us and secure the best there is to offer. Here at Ledgestone Hotel Billings, we can help make your guests feel at home. With our comfortable and spacious rooms, luxury linens, flat screen televisions and beautiful grounds, guests can relax and enjoy top notch accommodations without worrying about breaking the bank.
Your special day is a memorable one, make it memorable for your guests as well. Give us a call and speak to any one of our friendly staff members who will gladly assist you in making reservations.