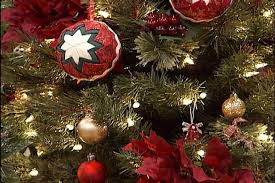 It is the most wonderful time of the year. Christmas is just around the corner and as we get into the holiday spirit, we look forward to the annal Festival of Trees. This weekend long event is sure to get you into the spirit with plenty of holiday cheer to go around.
The fun kicks off Thursday night at the Shrine Auditorium with the tree auction and gala. Bid on a tree or one of the many silent auction items while enjoying dinner, entertainment and the beautiful display of holiday decor.
The fun continues with Tea in the Trees Friday, Dec. 5th from 1-3 pm. Stroll though the trees, enjoy the live music and fashion show. Bring the family for a night of family fun. Kids can get their picture taken with Santa, enjoy games and activities as well as the illusion show by Kent Messmer.
Saturday and Sunday, brows the craft and gift show looking for that perfect gift for that special someone. With a wide variety of gifts all from local vendors, shop until your heart is content.
There is so much more fun to be had at the Annual Festival of Trees right here in Billings. For tickets to the special events or more information contact The Family Tree Center at 406-252-9799.