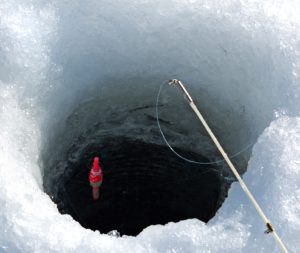 Ice fishing is a winter activity that not everyone gets to enjoy. While you are visiting with us, why not take the opportunity to go ice fishing in some of Montana's best fishing holes. We have a list of a few of the hot fishing spots among the locals here in Billings.
West Rosebud Lake: Boasting of insatiable trout, you are sure to bring home dinner but be warned, the wind is pretty brutal so be prepared.
Lake Josephine: One of the closer fishing holes, this small lake is located in Riverfront Park. Don't let its size fool you, it has some enormous fish. Catfish, Carp and bluegills are just a few of the different species you will find here.
Cooney Reservoir: A summer hot spot for water skiers, this is the winter pot of gold fro walleye and trout.
Deadman's Basin: A bit of a drive (about an hour north), this spot is one of the best spots around and has been known to produce fish so large they are state records.
Tongue River Reservoir: Just east of Billings, this spot is known for massive Northern Pike and tasty Crappies.
If fishing isn't your cup of tea, there are several fishing derbies that are coming up over the next few weeks. Head over to watch one of the weigh ins, enjoy the excitement and see the massive beautiful fish that anglers pull from our lakes. If summer fishing is more your style, be sure to book your stay with us online. We are proud be you Billings hotel and offer you outstanding service, a comfortable stay plus a number of top notch amenities.  We are excited to serve you again as you explore more of what our great town has to offer.