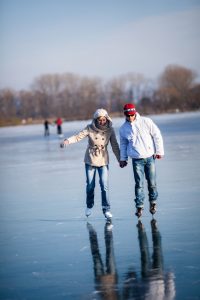 Montana is proud of the number of beautiful state parks we have to offer visitors. Many of our parks draw tourists from all over the country. Lake Elmo State Park is a 64 acre Reservoir that is located inside Billings' city limits. While it is still inside the city, just minutes away from your Billings hotel, you can feel like you are out of the city and enjoying nature in the peaceful quietness of the country.
Lake Elmo State Park is a hot spot for locals and tourists alike. In the summer months you can cool off swimming in the lake or have a picnic with your friends and family. Many find the dog park a wonderful addition allowing the furriest family member to enjoy the fun also.
While summer months prove to be the most popular time of the year, this is also a great spot in the winter. It is a great place to take in the beautiful surroundings while ice fishing, cross country skiing, taking a leisurely walk or ice skating on the lake. Wildlife is abundant throughout the year which gives visitors a chance to interact with nature while walking or skiing along the 1.4 mile trail around the park.
We invite you to enjoy some of Montana's beauty while visiting with us. Please stop by our front desk and our friendly staff will be happy to give you directions to one of the most peaceful places in Billings, Lake Elmo State Park.