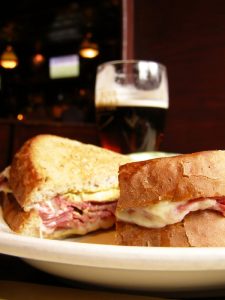 Pug Mahon's Irish Pub is the place to be this St. Patrick's day. With great food, a fun atmosphere and enough drinks for the entire town it is a sure bet that you will have a great time toasting the Irish. A Billings Irish Pub that makes you feel at home, Pug Mahon's is a great place to kick back, wear your green and enjoy hanging out at an awesome neighborhood joint.
One of the top items is the pork chop sandwich, something you wouldn't normally associate with an Irish pub. Go ahead and give it a try; you won't be disappointed. It is a menu favorite for a reason.  They have a great number of beers on tap to try and a wide variety of menu items.
The character and warmth is one of the draws to this place so even if you don't try it out on St. Patrick's Day, be sure to stop in this great spot for a beer or a meal. The service is always friendly and the customers are always local. There is nothing fancy about it which makes it so great. When you step through the doors, you will feel like you are in your own version of Cheer's via Billings.