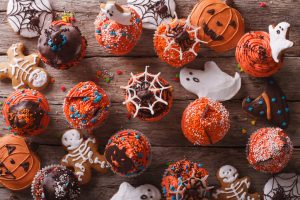 Billings boasts a variety of tricks and treats throughout October, from the MSUB Halloween Hall-Wide with a free carnival, trick or treating, cupcake walk and mini golf to the Trick or Treat at Rocky Mountain College for safe, fun trick or treating at the Anderson and Widenhouse Halls. Check out these options if you'll be spending the witching season in Montana:
Downtown trick or treat: Downtown Billings offers a free community trick or treat Halloween night with a variety of businesses handing out goodies. Activities, contests and giveaways take place throughout the district.
Monster Mash at HRDC: The hosts of the downtown trick or treat have their own special Halloween party in the morning with fun games, goodies and more.
Spooktacular at Beartooth Harley Davidson: The whole family is welcome, including pets, for costume contests (there's one for pets, of course!), plenty of food and prizes.
Boo at the Zoo: Check out ZooMontana's annual Halloween festivities at this "Merry, not Scary" day. Kids can come in costume for the noon parade, trick or treating, mad scientist show featuring some local four-legged residents, and games. It's a fun, safe Halloween alternative for all.
Candy Jam at Elevation Church: The popular free annual event is known for generous candy giveaways, gift card prizes, bounce houses, carnival food, live music and special surprises.
Scheel's Trick or Treating: Prizes, trick or treating, games and thrills are a staple at Scheel's this time of year.
Shiloh Methodist Church Trunk or Treating: Safe trick or treating is available as you go trunk to trunk. With coffee for parents, it's a popular Halloween night option.
Try one or all of these favorite Billings Halloween picks!