The biggest mall in Billings offers safe trick or treating on Halloween, and scary good deals, meals and more every other day of the year. Eight on-site dining options ranging from Starbucks (of course) to Flaming Wok and Asian Fusion make for delectable bites and treats. Whether you're craving a Cinnabon, pick me up at Mountain Mudd Espresso or a Neon Pretzel special, Rimrock has you covered.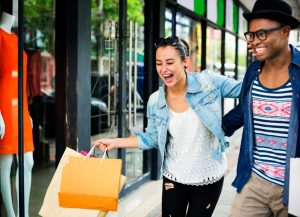 Big Sky Rides features coin-operated rides for kids, and at Blooming Balloons you can pick up a balloon bouquet for special events. Entertainment options also include Wynnsong 10, a ten-screen theater showing the latest releases.
Your Shopping Destination
Your favorite stores including The Children's Place, Francesca's, and PacSun can be found alongside more boutique options such as Sagebrush Trading and Vine Versa. With a casino on site and special deals always available and featured online, Rimrock is every visitor's favorite stop for staples, souvenirs and non-stop fun.
Enjoy convenient access to your hotel in Billings, MT, ample parking, and spooky decorations throughout the month of October. However, any time of year is the perfect time to check out Rimrock, get some great bargains and experience premium shopping in Montana.