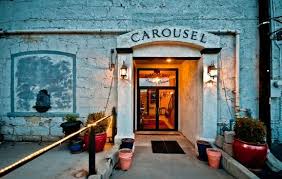 Yakima, while a small town, the choices for prime restaurants are not short in supply. With many amazing locations that rank high among the locals, we picked a few of our favorites for you to try.
If you are looking for a nice place to start off your day, Essencia Artisan Bakery is just the place. Featuring an open kitchen, you can watch as the bakers pull the tasty treats out of the oven. Indulge in flaky croissants and cinnamon 'beehives' which is the talk of the town. If you are in a hurry, grab a to-go sandwich like the focaccia club. You won't be sorry you did.
Second Street Grill, a posh sports bar, is decked out with Yakima's minor league baseball teams. With a front dining room for eating and the back bar for more activity and entertainment, this is one of the local hot spots. Enjoy massive burgers, hot wings and more exciting entrees such as the raved after miso-grilled salmon while taking in every imaginable sport possible on their bank of flat screen TV's.
Yakima has a large Latino population and with that comes great Latino food. Antojitos Mexicanos, an old converted fast-food eatery, has a menu loaded with tostadas, enchiladas and tortas made with homemade corn tortillas. Try one of the many salsas that range from kid-friendly to cinder-hot chili paste. And if you think that doesn't sound good enough, the prices will keep you coming back for more.
Carousel French Cuisine and Bistro is a quaint, quiet setting that features a more upscale feel. Opening in 2003 this French restaurant has continually served  their beef Bourguignon that remains out of this world. Sit back and enjoy the beautiful dining room mural as you sink your teeth into some of the most delicious meals in the area.
While these are just a few of the fabulous restaurants located throughout Yakima, we challenge you to be adventurous and try one of the many delectable menus available in our cozy town.