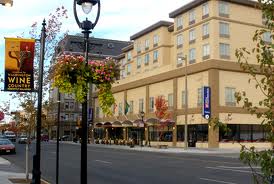 Welcome to Yakima, Washington! We are happy you are visiting with us. Let us introduce you to our area and share a little information about our town with you.
Yakima, part of the Yakima Valley, is home to over 91,000 residents was named for the Yakima Indians who were the original inhabitants of the area. Homesteaders arrived with the Lewis and Clark expedition and have been farming the area ever since. Our area is considered to be one of the most premier apple growing regions in the world and also the largest producer of hops in the country. Don't believe us, look at the number of breweries in our area!
Our city is home to an American Legion baseball team, the Yakima Beetles who have won three world championships. The local minor league football team, the Yakima Mavericks play in the Pacific Football League. Catch a game or two while you are in town, it is a guaranteed fun time.
Each year our city hosts a number of exciting and fun festivals. The Central Washington State Fair is held at the State Fair Park in September. The Yakima Folklife Festival and Fresh Hop Ale Festival are always a great time. Be sure to come visit and enjoy the local entertainment.
These are just a few of the exciting things we have going on here in Yakima. The excitement never ends. We hope you enjoy your stay with us and love our city as much as we do!