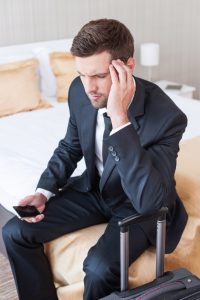 Business Travelers, when working in the Yakima Valley area, make us your home away from home! With spacious rooms, a great location and all the amenities you need for working on the road, we are just what you need while on the road for business.
Enjoy your regular exercise routine while on the road with our fitness center equipped with the aerobic exercise machines that you need. Our rooms are not only spacious and clean but give you the feel of home with unique layouts and all the comforts of home. Stay on top of your game while out of the office with our business center or host your own meeting in our meeting spaces set up to provide the classy business environment you need to impress your guests. With our 650 square foot meeting rooms, you have enough space for everyone to stretch out without feeling cramped. Our friendly staff is always available to work alongside of you to make your meeting flawless.
Have a long term project in the Yakima area? We offer great extended stay rates to help you make your travel more affordable. We hope to make your work trip the best it can be and we take pride in making our business travelers feel at home while on the road. Book your Yakima business hotel online now. We look forward to seeing you soon!