Rich with equestrian options, from the new horseback rider to the experienced, Yakima hosts rodeos year-round and it's home to a number of cowboys. Horse-friendly trails snake around the region, from the rugged hills to the pine groves, making this wine country the perfect place to saddle up. You'll be able to discover views impenetrable by foot or car, and it's a fantastic way to bond with fellow travelers.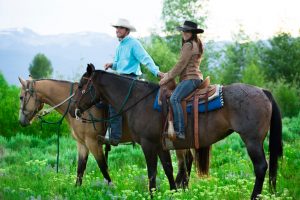 There are many outfitters offering both guided rides and horse rentals, so you can customize your trip. Some are full days on scenic meadows, others are for experienced riders only on overnight trips along alpine ridges, and others are mellow wine country tours with stops at several wineries along the way. If you prefer to ride alone, there are many trails that cater to solo or small group rides, complete with riding camps.
Where to Go
One of the most popular local areas is the William O. Douglas Wilderness area. You might also fall in love with this slice of the Pacific West Trail where great wildlife views and unbelievable scenery can be found. Cowiche Canyon is another fantastic stop, or the Lower Valley Yakima pathway, where a 14-mile wine country trail from Sunnyside to Prosser can be found.
Finding an outfitter that suits your needs is key, and you can start by checking out the Back Country Horsemen of Washington. The Pegasus Project is a unique organization offering horseback riding to children with special needs. No matter who you go with, get ready to giddy up!