Yakima is known for wineries and locally sourced American fare, but there's also a smattering of Thai restaurants to spice things up during your getaway. Start your journey at Yakima Thai Cuisine where a casual atmosphere pairs perfectly with Thai beer or a local glass of wine. The Pad Thai and spicy fried rice get rave reviews, and the Thai coffee is the perfect end to a delicious meal.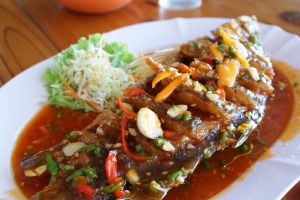 Thai House features fresh spring rolls, butterflies and skewers as starters using local, organic ingredients and fresh herbs. Try the Tom-Yum with chicken or shrimp, or for a real treat, try the ginger chicken and chicken swimming angels. Dessert includes Thai coconut ice cream, sticky rice with mango, or fried banana with ice cream.
Time for Thai
At the Tea Garden, you'll find an authentic menu with some of the most delectable tea in town. Available for carry-out to enjoy in your suite, reviewers recommend the Tom-Yum, Pad Thai and yellow curry. Chicken curries and their egg rolls really take the cake, and the lunch buffet is always sure to satisfy.
Bamboo Thai Cuisine is another option, a tiny establishment that's family-owned and has been dishing up genuine Thai fare to locals for years. No matter which of the four establishments you pick, you're guaranteed to heat up your trip with some seriously spicy and sweet dishes.