The Fairgrounds is home to the best Fourth of July celebration in wine country, with admission free from noon until 11 p.m. The Yakima Transit Park and Ride offers free shuttles to the fairgrounds all day, so it's easy to get the party started. Park at the Gateway Center, Eisenhower High School or Wide Hollow School with shuttle service every 15 – 20 minutes from 3:30 – 11:30 p.m.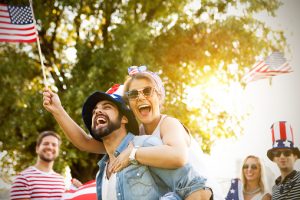 A nostalgic Fourth of July celebration brings the community together at this old-fashioned event with carnival rides, face painting, classic contests and much more. Food vendors dish up American favorites as well as locally sourced ingredients for truly Pacific Northwest specialties.
Celebrate Summer with a Bang
The fireworks display is the biggest in the region, taking place at dusk and lasting 20 minutes. Seating is available at the fairgrounds, but some visitors prefer to bring their own lawnchairs and relax while taking in the celebratory environment.
Come hungry and ready to showcase your patriotism at the biggest party of the summer. Of course, being wine country, vineyards will also be representing with options to pick up your favorite bottle or two to take back to your guest room.