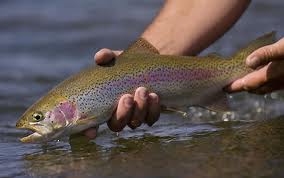 Fishing, specifically fly fishing, is a great past-time allowing you to get out into nature, enjoy your surroundings while relaxing to the rippling sound of the river around you. Here in Billings, we have a great reputation for fishing with plenty of top fishing spots.
For those who choose to venture out on their own, whether expert or novice angler, there are several rivers in the area. Big Horn River is known to be a favorite fishing spot among locals. With enormous seasonal hatches, it can be a fisherman's dream come true. A warning to all, the boulders in this river become very slick so be careful that you don't look like a fish yourself flopping around in the water.
Yellowstone River, another hot spot, has a variety of fish that is not offered in many of the other local rivers. Most have success all up and down Yellowstone without having to find the perfect fishing spot. As always, be sure to check out the fishing regulations before heading out and casting.
For those who would rather have a pro show you how it is done, there are many outfitters in the area who offer guided trips. Each guide has their own specialty spot/river and will be able to help you land the big one.
Get up to date fishing reports and more information at East Rosebud Fly & Tackle.