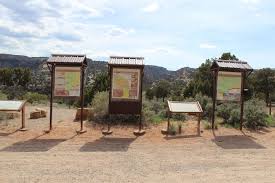 Hiking is a past time that many love. Here in Billings, we have plenty of trails to suit all ages and skill levels. With trails for hikers, runners, mountain bikers and many others, you will find a trail that leads you into the beautiful surroundings of Montana.
Just an 8 minute drive from downtown Billings is the Zimmerman Trail. This trailhead starts at the West End at Zimmerman Park. This trail takes you along the formations known as the Rimrocks. Skirting the north side of Billings, you will see some amazing views of the city, river valley and surrounding mountains.
The Four Dances Recreation Area has various hiking areas with a hiking loop this is as short as 1.5 miles long. With native sagebrush and grasslands, ponderosa pine near the river cliffs and the top of the rimrock wall that overlooks the Yellowstone River you are sure to get beautiful views while enjoy the great outdoors.
Next is the Pow Wow Park: Alkali Creek Natural Area. This 54 acre open space and wetland consists of steep gorges, caves, natural springs and swampy areas. The trailhead starts at Alkali Creek Elementary School Bring your furry friends, dogs are allowed on this trail.
No matter which trail you choose, be sure to put safety first. Always let someone know where you are going, how long you will be gone and when you plan on returning. Regardless of your skill level, accidents happen so be prepared.