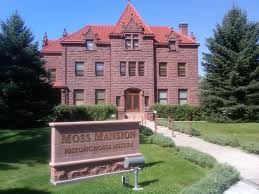 There are many things to do here in Billings. While many of those activities involve outdoor activities, there may come a day, whether cold or rainy, that you need fun and interesting activities to keep you warm and dry. Moss Mansion is one of many unique attractions in the Billings area that will provide you with plenty of entertainment on such a day.
Built in 1903, this historic mansion was built by Mr. Preston B. Moss, a local banker who moved to Billings from Paris, Missouri. The luxurious home was designed by Harry Hardenbergh, a famous New York Architect also known for designing the Waldorf-Astoria, Plaza Hotel, Willard Hotel and Copely Hotel. Featuring 28 rooms and a solarium this massive structure towers 45 feet into the air. Constructed at the turn of the century when most homes averaged $3,000 this magnificent home cost approximately $105,000 which explains why it is still marvelous to this day.
Now on the National Register of Historic Places, visitors can see the original furniture, carpet, fixtures and draperies. While some rumor of the home being haunted, others enjoy the amazing structure, architecture and fine furnishings boasting that each room is a work of art in itself. Take a look for yourself. Guided tours are available Tuesday thru Sunday with each tour lasting approximately one hour. Tickets may be purchased in the gift shop located in the basement of the home.