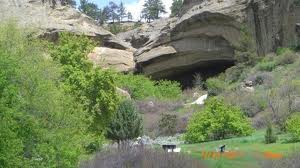 Take in some learning this summer while school is out. Grab the kids and head over to Pictograph Cave State Park. This National Historic Landmark is located just a few miles outside of Billings which make a great day trip with just a short ride! Pack a lunch and make a day of it.
The park consists of three caves, Pictograph, Middle and Ghost that encompass a total 23 acres. This exciting park features paved trails to the caves where visitors can view the visible remains of paintings that range between 200 and 2,100 years old, the oldest being a painting of a turtle found in Pictograph Cave, the largest of the three caves. These historic paintings display animals, warriors and even rifles documenting the story of the Native Americans for thousands of years.
Paintings are not all that have been found inside this park. At least 20,000 animal remains have been found and recovered. Some of these animals are known to be what the early Native Americans hunted for food. Bison, Elk, various birds and many reptiles and amphibians are among those found. Also, artifacts dating back over 3,500 years have been preserved and put on display for visitors to view.
After walking through the caves and enjoy the interpretive displays inside the visitor center and have a picnic on the grounds. Picnic tables are available and the restrooms are clean! For more details, park hours and rates visit the park website.