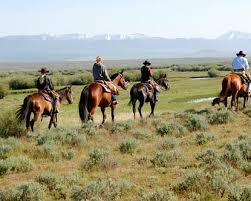 Summer is here and we are in the perfect place to enjoy the great outdoors. With amazing surroundings, you won't find a shortage of thrill seeking, adventurous activities that allows you to soak up the sun and the beautiful views.
Check out our local outfitters and book an adrenaline filled white water rafting ride down the Gallatin and Madison rivers. This high energy adventure is becoming more and more popular drawing many to the area. Local guides will take you on full or half day rides over exciting rapids to explore the excitement of this past-time.
Hiking, while just as fun, allows you to keep your feet planted on dry land. With plenty of trails to choose from, Swords Park Trails gives you 60 acres to explore and unbelievable views. Running along the rim in billings, you can overlook the city and surrounding areas. Winning Montana's Trail of the Year award, it is guaranteed to give you an enjoyable hike.
Horseback Riding is another alternative to the high energy sports. Catch a glimpse of the five different mountain ranges and walk through a field of beautiful wildflowers. Horseback tours are available for anyone from an expert rodeo cowboy to the most un-experienced rider there ever was. Take a day tour or spend the night out under the stars like a real westerner.
If you are looking for a more mellow activity that still gives you the enjoyment of being outdoors take a float down the Yellowstone River. Grab a tube, some sunscreen and a few friends and head down to Riverfront Park. This relaxing journey down the last free flowing river in the United States is beautiful and locals love floating for a relaxing adventure.