Who wants to hang out in a garage during their vacation? Everyone in Billings, because it's where the Yellowstone Valley Brewing Co. throws the best parties, events, and acoustic jam sessions. Located in downtown, this sprawling brewery-turned-hotspot has tennis courts as part of the play, tour, sip, dine approach. Whether you want to play a game, take a tour of the brewery, or just sip on a cold handcrafted pint at the state's official Tennis Racquet Garage of Fame inside the brewery, you can design your perfect day.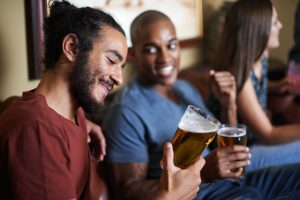 Why tennis? The city has a number of gorgeous courts, and many were in disrepair. Some were so lacking in maintenance that they had all but disappeared. Yellowstone took on the challenge of renovating the courts in 2015, turning them into club and community courts.
More on Yellowstone Valley Brewing
At First Ferkin Friday, tapping starts at 6 p.m. Guests can try the special cask-conditioned ale that's only tapped once a month. However, it's a bit of a secret treasure. You might need to specifically ask brewers Jeff Grissom or Andre Brown for the First Ferkin—otherwise, word might get out and there won't be enough ferkins to go around!
Located on 1st Avenue, the brewery is a major landmark in Billings and a must for any beer (or tennis!) lover. Special events happen most weekend nights, so stop by for a cold one and get to know this truly fusion-rich brewery that could.