At the Western Heritage Center, you'll be treated to traveling exhibits, workshops and lectures, permanent galleries and special events. Personal stories and cultural histories are archived in this beautiful destination, telling the stories of the people of the Northern High Plains, from the Crow to the Northern Cheyenne tribes.. As a tool of understanding and education, free archive access is available to all.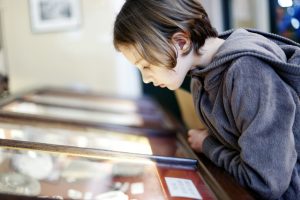 Oral history features include the American Indian Tribal Histories Project, Echoes of Eastern Montana, Yellowstone River Cultural Inventory, and the High Noon Speaker Series. Visit the historic and contemporary photo gallery, and discover a wide range of collections. The photographs collection boasts over 6,000 images from transportation to farming, American Indian culture to public buildings and more.
Plan Your Visit
With new additions and exhibitions, no two visits to the Heritage Center are the same. Discover the Native American Collections Cecil Dunn Collection, highlighting Northern Arapaho beadwork from 1910 – 1926. Regional Native American items showcase clothing, keepsakes and beadwork from a number of local tribes.
Don't miss the Regional Western Art Collection with original paintings by Billings artists, architectural drawings by famed 20th century architects, firefighting equipment and clothing, and textiles from historical regional collections. Guns and the Harry Frahm Collection featuring an 1831 69 caliber Harper's Ferry musket is just one gem you need to see.