Montana is known for prime cuts and great steaks, so is it any surprise that it's also a burger mecca? Start your journey at MOOYAH Burgers, Fries and Shakes, a local chain with delectable vegetarian options, too. The Iceburger is a low carb option, the Black Bean burger is a favorite for vegetarians and meat lovers alike, and the classic Mooyah burger is an American staple that's made the chain "semi-famous" as they claim!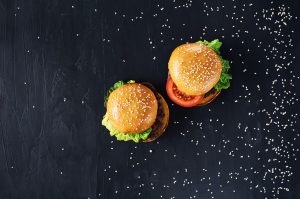 The Burger Dive is a retro destination with checkered floors and an innovative menu. You'll want to try the "I'm Your Huckleberry" burger with huckleberry chili sauce, bacon, goat cheese, arugula, and roasted red pepper mayo on a Grains of Montana bun. It just won the World Burger Championship for 2016.
Burger Delights
King's Hat is a favorite local drive through known for fish sandwiches, Sloppy Joes, and of course burgers. Don't forget to try their malted milkshakes with scratch-made ingredients. It's a slight spin on the traditional burger drive through, but well worth checking out.
The Rendezvous Casino and Burger Grill is located within the casino and offers home cooked goodness to increase your odds with Lady Luck. Burgers are just $4, but you may also want to try the chicken fried steak, fried chicken sandwich, or the delicious fish sandwich. In Billings, options are limitless. Where will you fill 'er up?