September is Motocross season in Billings with the BMC Fall Classic Motocross kicking off on September 9 at 9 a.m. Head to the Billings Motorcycle Club at 3630 Old Blue Creek Road and check out the world-famous 2-mile Yellowstone River Forest Track nearby. Whip-fast and featuring options to snag plenty of air time for double and triple jumps, you'll be treated to woops, table tops and sand/deep loam berm corners.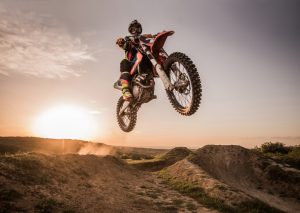 From the hairpin turns to the rhythm sections and sand sections all the way through the downhill and uphill jumps, it's guaranteed to be an adrenaline-pumping good time. There are plenty of spectator viewing areas that let you catch all the action as the contenders take on a prepped track featuring the latest sprinkler systems and designed for heavy equipment.
The Race is On
Drag Races take place throughout the month at the Yellowstone Drag Strip, including the Menholt Classic. Catch a race September 2, 3, 16, 17 and don't miss the Flat Track #5 Under the Lights on September 23. This high-speed motorcycle event boasts a 3/8 mile course with packed bleachers and plenty of concessions.
You'll see some of the fastest bikes in the world on this flat track, which draws athletes from around the country. New and vintage bikes alike take on each other to finish first. All events are family-friendly.